Univision is an American Spanish-language broadcast television network. It aired The Backyardigans (listed as Los Backyardigans and often simply Backyardigans) in the United States from 2008 until 2015.
Planeta U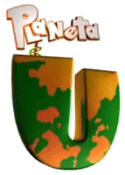 Planeta U is a three-hour block of children's programming that airs every Saturday morning on the Univision network. Debuting first in the 1990s, it features programming that comply with federal E/I content rules as mandated by the Federal Communications Commission. A revised edition of the programming block, an hour in length on Sunday mornings at 9 AM ET, began airing in March 2010. All programming in this block are Spanish-dubbed versions of programs originally broadcast in English.

As of 2014, the block is commonly called "Disney Junior en Univision". Although The Backyardigans did not air as part of Disney Junior in the United States, it is a regular Disney Junior program in Japan, allowing for Univision to use this nickname.

The Backyardigans was the last Nickelodeon program on the block before being removed. It originally aired along with other Nickelodeon series (such as Dora the Explorer, Pinky Dinky Doo, and Go, Diego, Go!). These shows were pulled from the block once Planeta U became "Disney Junior en Univision".
Univision.com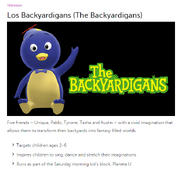 Univision.com is the network's website, providing video clips, images, schedules and information regarding Univision. Unlike news shows, filmed sporting events, and programs aimed at a family audience, Los Backyardigans has not received its own series page. Only two news articles on the website mention the series.
Ad blocker interference detected!
Wikia is a free-to-use site that makes money from advertising. We have a modified experience for viewers using ad blockers

Wikia is not accessible if you've made further modifications. Remove the custom ad blocker rule(s) and the page will load as expected.