Not to be confused with the Very Heavy Tiki Mask.
The tiki is a large sand formation located on Tiki Beach. It is designed to look like the charm on Surfer Pablo's necklace.
Looks
The tiki is mostly cream-colored. It is modeled after a human face, with a pair of eyes, a large nose, and a mouth.
Appearances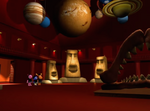 The tiki has appeared in one episode of The Backyardigans: "Surf's Up" from season one. Darker-colored (but otherwise identical) tikis appear inside the treasure museum in "Secret Mission".
Ad blocker interference detected!
Wikia is a free-to-use site that makes money from advertising. We have a modified experience for viewers using ad blockers

Wikia is not accessible if you've made further modifications. Remove the custom ad blocker rule(s) and the page will load as expected.