Tasha is a yellow hippopotamus as well as a major character in the series.
Tasha was voiced by Naelee Rae in the first and second season and voiced by Gianna Bruzzesse in the third and fourth season. Her singing voice was provided by Kristin Klabunde in the first two seasons and the first five episodes of season three, and Gabriella Malek during the rest of season three, as well as all of season four.
Personality
Tasha is extremely confident and likes to be in charge most of the time. She is rational, skeptical, and highly motivated to get her own way. However, she is never downright mean to her friends. Tasha is normally very opinionated. She is difficult to frighten, as pointed out in the episode It's Great To Be A Ghost! from season one.
In season one, her bossy personality was brought out in most episodes she appeared in (exceptions include The Snow Fort, Cave Party, Race Around The World, and Eureka!). In season two, she was occasionally shown as being sweet and helpful in episodes like Scared Of You, in which Tasha threw a surprise birthday party for Austin, and Special Delivery, in which Tasha played a member of a motorcycle gang devoted to helping others. By the third season, her bossy trait had decreased significantly (even though she still showed her trait in Chichen-Itza Pizza). By the fourth season, this trait disappeared almost completely.
Looks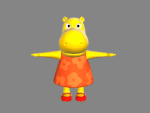 Tasha is a yellow-skinned hippo with a red-pink tongue and two slightly sunken nostrils above her mouth. She wears an orange dress with eight light-orange flowers printed on it in random spots, along with red Mary-Janes.
Appearances
Tasha appears in many episodes of The Backyardigans. Her first appearance was in Me and My Friends, the unaired live-action pilot. Her first appearance in an aired episode was in The Yeti. Her last appearance in an episode of The Backyardigans is in The Tale of the Not-So-Nice Dragon. Her last appearance in any aired animation is in Nickelodeon's Mega Music Fest.