The Rocket-Bus is a hovering ship owned by a trio of Martians. Its resemblance to a tour bus confuses the Los Galacticos band as they mistake it for their own tour bus.
Looks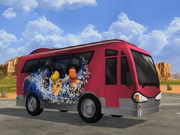 The ship is primarily red. It has a large, transparent windshield and two black windshield wipers. The spaceship's side is decorated with a painting of three ringed planets. There are two headlights on the front bumper.
Appearances
The Rocket-Bus has appeared in one episode of The Backyardigans: "Los Galacticos" from season four. 
Ad blocker interference detected!
Wikia is a free-to-use site that makes money from advertising. We have a modified experience for viewers using ad blockers

Wikia is not accessible if you've made further modifications. Remove the custom ad blocker rule(s) and the page will load as expected.