Nick Jr. at the Movies was a theatrical program taking place at National Amusements theaters in the United States. Episodes of Nick Jr. programs, including The Backyardigans, were reformatted for large-screen projection and enhanced with 4-D effects produced by SimEx-Iwerks technology.
The program was held at 36 theaters across 12 states. Eight different, fifty-minute presentations were rotated for 2008 screenings; newer presentations were added in 2009. Tickets were $6.00 per person.
Official Description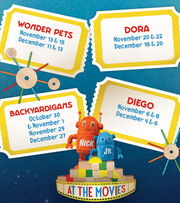 Nickelodeon presents "Nick Jr. at the Movies", a short program featuring episodes and music videos of popular Nick Jr. shows. Kids and their parents will enjoy a fun introduction to the movie-going experience with the characters they know and love. Watch The Backyardigans and Wonder Pets! with added 4-D effects such as bubbles and wind to bring the show to life. Share the experience together!
External links
Ad blocker interference detected!
Wikia is a free-to-use site that makes money from advertising. We have a modified experience for viewers using ad blockers

Wikia is not accessible if you've made further modifications. Remove the custom ad blocker rule(s) and the page will load as expected.