Mummy King Tyrone is an easily frightened mummy. He resides in a large pyramid near Mad Scientist Tasha's laboratory.
Looks
Mummy Tyrone is primarily orange. Much of his body is wrapped around in bandages.
Appearances
Tyrone has played Mummy King Tyrone in one episode of The Backyardigans: "Scared of You" from season two.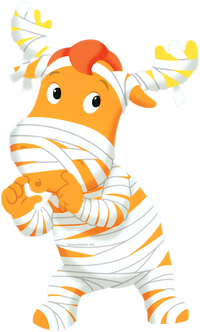 Ad blocker interference detected!
Wikia is a free-to-use site that makes money from advertising. We have a modified experience for viewers using ad blockers

Wikia is not accessible if you've made further modifications. Remove the custom ad blocker rule(s) and the page will load as expected.