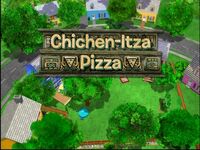 Chichen-Itza Pizza is an episode of The Backyardigans that aired during season three.
Characters Present: Uniqua, Tyrone, Tasha
Summary: Tyrone the Maya king orders pepperoni pizza from a pizza restaurant called Chicken-Itza Pizza. But the pizza delivery crew has a tough time getting to their pizzeria to his pyramid - and accidentally lose the pizza!
Full Recap: See recap...
Transcript: See transcript...

670px|A fan-made video using The Backyardigans plush toys



The Backyardigans is a CGI-animated musical-adventure series aimed at children aged 2 to 10 that airs on most channels in the Nickelodeon family of channels. In each episode, the show's five main characters - Uniqua the uniqua, Pablo the penguin, Tyrone the moose, Tasha the hippo, and Austin the kangaroo rely on their vivid imaginations to transform their backyard into a fantastical 3-D landscape, and together they embark on amazing epic journeys.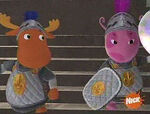 What's your favorite character to play a role as someone else?
Winner of the "Favorite Episode of All Time" Poll: Other!
Other episodes not included in December's poll asking readers what their favorite episode of all time was, and this category won with 42 votes! Robot Rampage won second place with 27 votes.