The Backyardigans is a CGI-animated musical-adventure series airing on the Nickelodeon channel family in the United States and on Treehouse TV in Canada. In each episode, the show's five stars - Uniqua the unique creature, Pablo the penguin, Tyrone the moose, Tasha the hippo, and Austin the kangaroo - rely on their vivid imaginations to transform their backyard into a fantastical 3-D landscape, and together they embark on amazing journeys set to different music genres.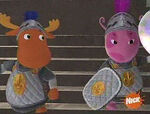 A new poll is added every month!
Who is your favorite recurring character in The Backyardigans?
To view the winners of the past polls, go here!



2004th Page Special!
Our 2004th page! Read about it to see a behind-the-scenes clip and a neat story!

For more like this, check out our other videos!
More The Backyardigans on Wikia
Click on a logo below to visit one of our affiliates!