Home
Talk

42
1,819pages on
this wiki


The Backyardigans is a CGI-animated musical-adventure series airing on the Nickelodeon family of channels. In each episode, the show's five main characters - Uniqua the "Uniqua," Pablo the penguin, Tyrone the moose, Tasha the hippo, and Austin the kangaroo - rely on their vivid imaginations to transform their backyard into a fantastical 3-D landscape, and together they embark on amazing epic journeys.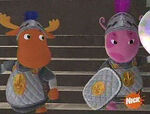 Which of Austin's pretend characters is your favorite?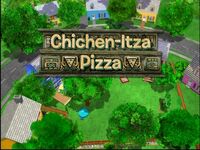 Chichen-Itza Pizza is an episode of The Backyardigans that aired during season three.
Characters Present: Uniqua, Tyrone, Tasha
Summary: Tyrone the Maya king orders pepperoni pizza from a pizza restaurant called Chichen-Itza Pizza. However, the pizza delivery crew has a tough time getting from their pizzeria to his pyramid - and accidentally lose the pizza!
Full Recap: See recap...
Transcript: See transcript...


Wikis Affiliated with Us
Click on a logo below to visit one of our affiliates!