Home
Talk

42
1,910pages on
this wiki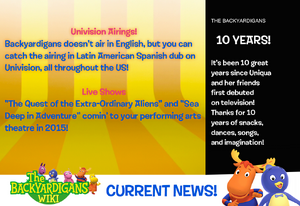 The Backyardigans is a CGI-animated musical-adventure series airing on Treehouse TV in Canada and Nickelodeon in the United States. In each episode, the show's five stars - Uniqua the unique creature, Pablo the penguin, Tyrone the moose, Tasha the hippo, and Austin the kangaroo - rely on their vivid imaginations to transform their backyard into a fantastical 3-D landscape, and together they embark on amazing journeys set to different music genres.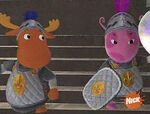 Which of Austin's pretend characters is your favorite?
LAST CALL: On February 5th, the 'Austin Pretend Character' Poll will come to a close. The winner will be announced here, and a new poll will be created! It's still anyone's win! Good luck!

Uniqua Cupcakes
To make some delicious Uniqua cupcakes, follow the instructions available on this article!
Ingredients:
2 cans (16 oz. each) vanilla frosting
Green and pink paste food coloring
24 vanilla wafers
Pink food color spray (such as Color Mist™ from Wilton)
48 mini chocolate chips
12 pink Starbursts®, quartered lengthwise
Directions: Read directions...
Nutrition Info: Read nutrition information...
For more like this, check out our other videos!



More The Backyardigans on Wikia
Click on a logo below to visit one of our affiliates!