Austin is an anthropomorphic kangaroo and a major character in The Backyardigans.
Austin is voiced by Jonah Bobo throughout the entire series. His singing voice is provided by Thomas Sharkey in the first three seasons and Nicholas Barasch in season four.
Personality
Austin is described as the "new kangaroo on the block," and does not know the other characters very well yet. He is somewhat hesitant to express his opinions, and slow to take the lead. Austin is often left out and rarely takes the role of the lead character. When he overcomes his shy feeling, he gets the respect he deserves. Austin is sweet, kind, and has a big heart. Throughout his adventures, he frequently takes the role of a humble servant or faithful assistant, putting his friends' needs ahead of his own and helping them in any way he can. He is not one to ask for recognition, but even so, he receives a lot of love and support from his friends for all that he does for them.
In season one, Austin's voice was somewhat raspy, but from season two and onward, this feature disappeared. Austin's shy trait also seems to disappear in the last two seasons. As the series progresses, Austin takes the role of more antagonists, such as Mayor Stinkypants and the Gloom Meister.
Looks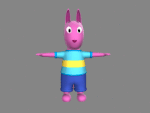 Austin is tall and his entire body is purple. He has a light blue shirt with a yellow line in the middle. He wears blue pants that are rolled up. His nose is dark purple and his eyebrows are dark purple. He has long ears with dark centers on the top of his head. Austin has a tail which comes out of the center of the seat of his shorts and trails on the ground.
Appearances
Austin has appeared in many episodes of The Backyardigans. Unlike the other four main characters, he did not appear in the live-action pilot Me and My Friends or in the unaired animated pilot. His first appearance was in Pirate Treasure and his final appearance was in Nickelodeon's Mega Music Fest.